Enhance opportunities
Indirect paths to career entry
Jobfactory, located in the Dreispitz quarter in Basel, enhances opportunities. It supports young people in difficult circumstances and assists in their integration into the labour market. It aims to bring positive impacts to as many young lives as possible. Jobfactory vocational internships teach engagement, commitment, reliability, and resilience. Jobfactory internships allow interns to experience agency, awareness, and hope at their workplaces, even during challenging times!
A special feature at Jobfactory is the diversity of the target group in terms of the participants' ages, types of assignments, and backgrounds. The programme has various offers which have low entry thresholds and appeal to teens and young adults. Introductory offers include internships (both internal and some external) as well as workshops (such as job application workshops), training courses, and the FutureLab. This comprehensive programme ensures a good fit between the participants' interests and their visions for the future and prepares them for the working world of the future. 
Jobfactory provides a transitional solution for a young person's (professional) profile, filling a gap where no other provision exists, or else is too difficult to access. It offers participants the space to find themselves professionally and personally, try out different paths, and to develop.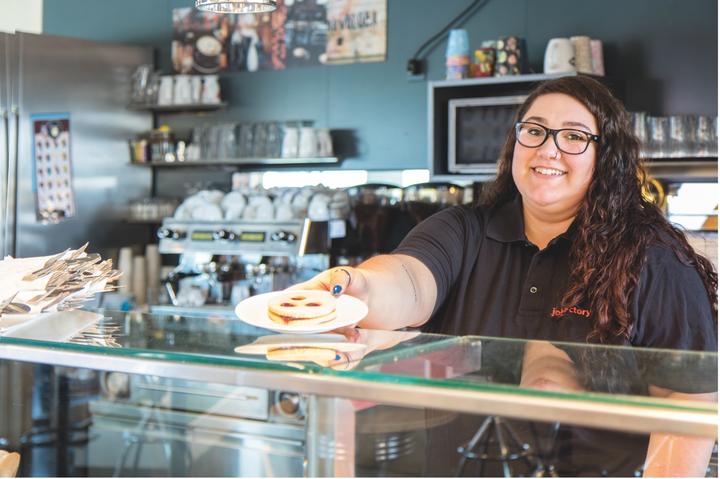 Enabling career entry – a success story
M. dropped out of compulsory schooling and completed her last year at a public school. Despite applying for apprenticeships in various fields, M. had no success, which led to considerable tension with her parents. She went to a career guidance centre in the canton, and it was there that she heard about Jobfactory.
M. started working in the Jobfactory restaurant, then moved on to other work areas within the company before being hired to work in the Jobfactory studio.
When I saw that something was not working for me, I could say so and they responded.
In the studio, M's difficulties in dealing with responsibility and authority figures were mitigated, thanks to the good relationship she had with her coaches. Her relationships with the other team members were positive as well.  
We were all in the same boat. Yes, I remember that quite positively.
Afterwards, M. landed a traineeship as a service worker relatively quickly, even though she did not like that type of job when she started at Jobfactory. Now, however, she feels that this work provided her with a good foundation.
The transition was not easy for her, but Jobfactory had prepared her well. Since she was making less progress than she wanted in her training, she decided to switch to another training company.
It took me quite a long time to convince my parents, but changing companies was the right thing to do and important for me. Luckily, I ended up working at one of the best restaurants in Basel.
M. sees herself as self-effective and convincing, and she understands the positivity of her own decisions with regard to her career path. After her apprenticeship, M. worked in various restaurants until she realised that she wanted to further develop her professional profile. She is currently attending vocational school.
I don't really know where I'm headed yet. But I'm thinking of the health or social sector. That's what I enjoy doing the most.
About Jobfactory
Jobfactory consists of two entities, training company and vocational school, analogous to the renowned training model. Job Factory Basel AG consists of 12 business areas in various industries and helps people to acquire work experience while the Job Training Foundation specialises in empowering young people through coaching and education. Every year this combination provides unique opportunities for developing a career path and qualification through vocational internships  to more than 200 young people without work or training. This is Jobfactory's contribution to social responsibility.