Production and office expansion for Endress+Hauser Flow in Reinach
Endress+Hauser Flow develops and manufactures flow meters for liquids and gases at its Reinach site. We were able to create new space by adding a storey and an extension to the building.
Ausgangslage
Im Zuge des Firmenwachstums benötigte das Unternehmen zusätzliche Flächen für ein Auditorium, Büros sowie Produktion.
Auftrag
Als Generalplaner planten und realisierten wir auf einem bestehenden Produktionsgebäude eine Aufstockung mit ca. 3'000 m2 Nutzfläche für Büros und ein modernes Auditorium mit Innenhöfen. Zeitgleich entstand anschliessend an diese Gebäude in südlicher Richtung eine zusätzliche Erweiterung. Hier planten und realisierten wir zwei Bürogeschosse, zwei Produktionsetagen sowie zwei Untergeschosse für Parkplätze und Technikzentralen mit einer Bruttogeschossfläche von rund 20'000 m2.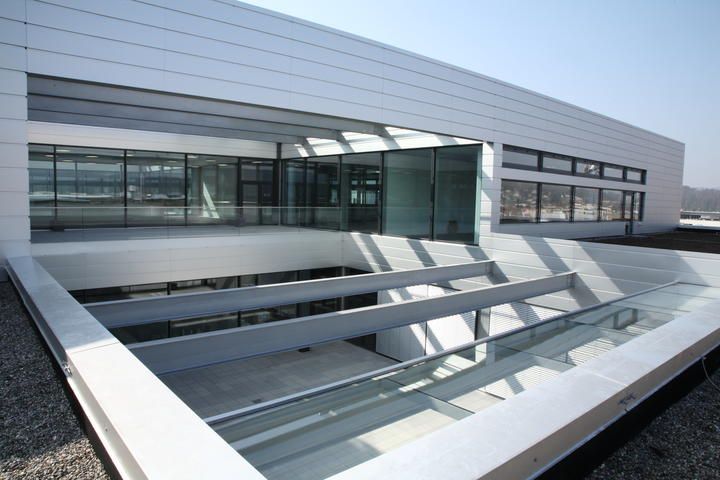 Resultate
Dank intensiver und konstruktiver Zusammenarbeit zwischen Bauherrschaft und Planer gelang es uns, die modernen und hellen Räumlichkeiten termin- und kostengerecht an die Nutzer zu übergeben. Unsere Flexibilität als Planer durften wir praktisch unter Beweis stellen, als sich am Ende des Rohbaus dank einer Zonenplanänderung die Opportunität für ein zusätzliches Bürogeschoss ergab. Dieses wurde kurzfristig in den Bauablauf aufgenommen und konnte wenige Monate nach Übergabe der ursprünglich geplanten Geschosse ebenfalls der Bauherrschaft übergeben werden.