Transport perspectives 2050
On behalf of the Swiss Federal Office for Spatial Development (ARE), we have investigated how transport could develop over the next 30 years. The results form the basis for the federal government's strategic development programmes for roads, railways and urban transport.
Ausgangslage
Besitzt die Schweizer Bevölkerung in 30 Jahren nach wie vor zu grossen Teilen ein Auto und kurvt mehrheitlich alleine auf Strassen herum?
Verkehren Züge in 30 Jahren alle 15 Minuten quer durch die Schweiz und übernehmen dabei einen grösseren Anteil des Verkehrs?
Besitzt das E-Bike das Potenzial, Fahrten mit dem Auto massgeblich zu ersetzen?
Inwiefern werden Digitalisierung und Automatisierung neue Mobilitätsformen entstehen lassen und welche Wirkungen auf Strasse und Schiene resultieren daraus?
Die Verkehrsperspektiven 2050 müssen auf diese und viele weitere Fragen Antworten liefern können. Denn daraus entwickeln die Bundesämter ihre Strategien zur Entwicklung der Infrastruktur auf der Strasse und der Fahrpläne im Schienenverkehr. Auf Basis der Resultate werden demnach Ausbauprogramme über mehrere Milliarden begründet, entsprechend besitzen die Verkehrsperspektiven für die Bundesämter einen sehr hohen Stellenwert. Doch es interessiert nicht nur die Hardware: Mit den Resultaten der Verkehrsperspektiven müssen auch Fragen des Beitrags des Verkehrs zu Nachhaltigkeit und Energiebedarf beantwortet werden können.
Herausforderung
Aber wie lässt sich die Verkehrsentwicklung in den nächsten 30 Jahren herleiten? Zumal in diesem Bereich in den nächsten Jahrzehnten namhafte Veränderungen zu erwarten sind? Nun, einerseits stehen für die Berechnungen von Prognosen drei Modelle des Bundes zur Verfügung: Das Nationale Personenverkehrsmodell (NPVM), das Flächennutzungsmodell (FLNM) und die Aggregierte Methode Güterverkehr (AMG). Diese Instrumente gilt es mit konsistenten Annahmen zu Verkehrsentwicklungen zu füttern.
Andererseits wird in vier Szenarien gedacht: Weiter Wie Bisher (WWB), Basis (BASIS), Nachhaltige Gesellschaft (NTG) und Individualisiert Gesellschaft (ITG). Diese Szenarien sind durch die Bundesämter in ihren Eckpunkten definiert worden und stellen verschiedene «Was wäre, wenn»-Welten dar. WWB geht von einer Fortschreibung des Bisherigen aus, während BASIS die in anderen Arbeiten des Bundes analysierten Trends übernimmt sowie von der Umsetzung weitergehender verkehrspolitischer Massnahmen ausgeht. Entsprechend bildet BASIS auch das Kernszenario der Verkehrsperspektiven. In zwei weiteren Szenarien werden die Wirkungen alternativer Entwicklungspfade geprüft: NTG geht von einer Zukunft aus, in welcher die Gesellschaft technologische Errungenschaften konsequent zugunsten einer höheren Nachhaltigkeit einsetzt, während in ITG die Gesellschaft diese Errungenschaften für eine verstärkte Individualisierung nutzt.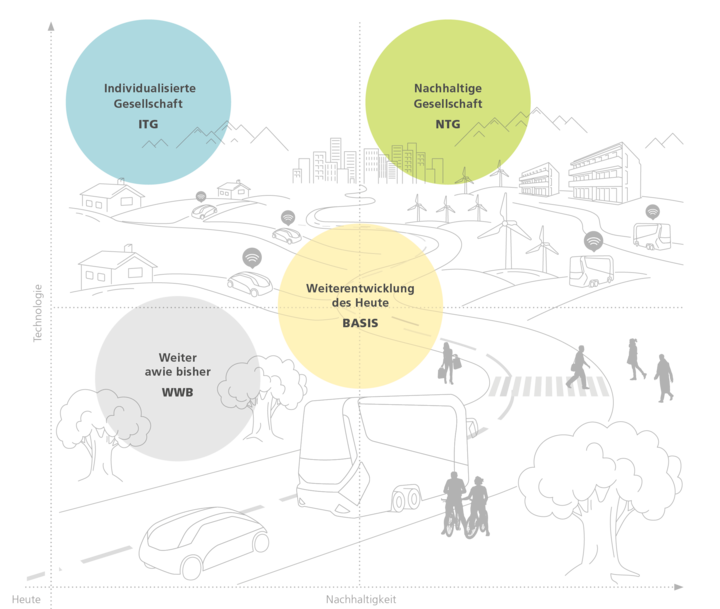 Auftrag
Neben der Gesamtprojektleitung bestand unsere massgebliche Aufgabe darin, die vier Szenarien in allen Facetten auszuformulieren, mit den Bundesämtern zu diskutieren und daraus Inputgrössen für die Modelle abzuleiten. Die nachfolgenden umfangreichen Modellrechnungen für diese vier Szenarien erfolgen federführend durch unsere Projektpartner. Wir waren anschliessend für die Plausibilisierung der Resultate und deren Interpretation verantwortlich. Ebenso lag die Verantwortung für die Dokumentation der gesamten Arbeit bei uns.
Die Hauptarbeiten der Verkehrsperspektiven sind bis Ende 2021 abgeschlossen. Bis Ende März 2022 werden auch die weitergehenden drei Optionen zu einem Abschluss geführt werden können.
Resultat
Die Resultate der Verkehrsperspektiven 2050 wurden am Dienstag, 16. November vom UVEK im Rahmen einer Medienkonferenz der Öffentlichkeit vorgestellt. Der Schlussbericht und weiterführende Unterlagen sind auf der Webseite des ARE abrufbar.