New industrial building for Endress+Hauser Flow
As general planner, we are again allowed to plan a new building for the Endress+Hauser Group's competence centre in the field of flow measurement technology. The extension at the Reinach site will be 25 metres high and have a floor area of around 27,000 m2 and will be built directly on an existing building.
Ausgangslage
Im Zuge des Firmenwachstums werden zusätzliche Flächen für ein Kundencenter, Büros, Forschung & Entwicklung sowie die Produktion benötigt.
Auftrag
Vor einigen Jahren durften wir für Endress+Hauser Flow bereits eine Geschossaufstockung und einen Anbau planen und realisieren. Nun setzt die Firma wieder auf uns. Mit dem neuen Auftrag übernehmen wir die Planung und Realisierung zusätzlicher Flächen in Form eines Neubaus. Dieser bietet Endress+Hauser bei der Fertigstellung ein grosszügiges Auditorium mit angrenzenden Schulungsräumen für Kunden und Mitarbeitende, bis zu acht Meter hohe Hallen für die Endmontage und Kalibrierung von Durchflussmessgeräten, Werkstätten für Forschung & Entwicklung, Lehrlingswerkstätten sowie offene Bürolandschaften. Das imposante Bauwerk mit einer Höhe von 25 Metern wird als Puzzleteil zwischen vier bestehenden Bauten errichtet.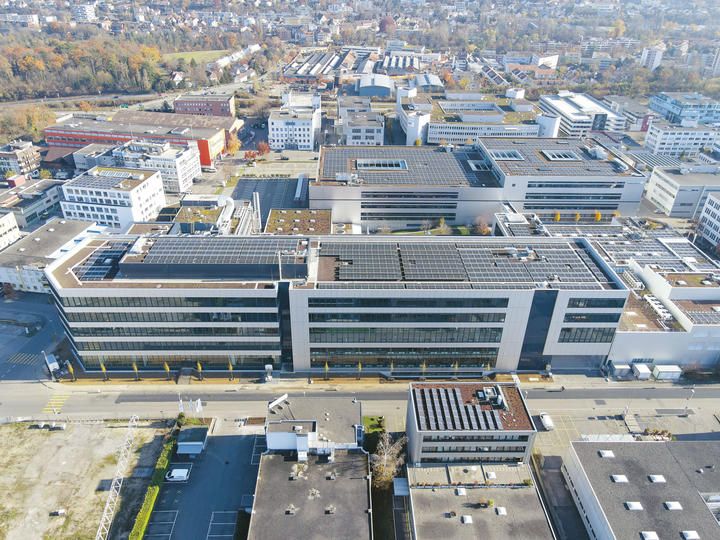 Aufgrund der Grösse und der unterschiedlichen Nutzungen ist das Projekt in zwei Gebäude unterteilt. Bau 1 (links) ist ein reines Büro-und Verwaltungsgebäude. Im repräsentativen Erdgeschoss liegen das Foyer mit dem neuen Kundenzentrum, das grosszügige Auditorium, das in zwei Bereiche unterteilt werden kann, und die angrenzenden Schulungsräume für Kunden und Mitarbeitende. In den vier Vollgeschossen befindet sich eine offene Bürolandschaft. Im Bau 6  (rechts) finden vorwiegend die Produktion und Montage sowie die Ausbildung der Lernenden statt. Beide Bauwerke sind mit den angrenzenden Gebäuden verbunden: der Bau 1 durch mehrere vertikale und horizontale interne Verbindungen; im Bau 6 knüpft eine neue verglaste Fussgängerpasserelle an den bestehenden Bau 9 an, um den Weg zwischen den Werkstätten und Produktionsräumen zu verkürzen.
Grosse Spannweiten und stützenfrei Hallen
In beiden Gebäuden lösten unsere Tragwerksplaner einige nicht alltägliche statische Herausforderungen. Da sich die Bauherrschaft für das insgesamt rund 700 m² grosse Auditorium und das angrenzende Foyer im Erdgeschoss des Baus 1 eine stützenfreie Konstruktion wünschte, werden die Lasten der vier Obergeschosse im 1. OG abgefangen, nach oben geführt und über Wandscheiben im Dachgeschoss abgeleitet. Dort werden die Kräfte über die Aussenwände der Technikzentrale, welche als massive Wandscheiben ausgebildet wurden, auf die nächsten Stützenreihen abgetragen, von wo sie durch alle Ge- schosse nach unten geführt und fundiert werden. Die Konstruktion bildet damit eine Art Brücke.
Für den Bauzustand wurden im Erdgeschoss vier provisorische Stahlstützen ein- gebaut. An deren Stützenköpfen wurden Hydraulikpressen angesetzt, welche die circa 1200 Tonnen der vier darüber liegen- den Geschosse hochpressten. Nach Abschluss der Rohbauarbeiten hatten die Stahlbetonscheiben auf dem Dach ihre Tragfähigkeit erreicht. Daraufhin konnten die Lasten der vier Stockwerke kontrolliert auf die Pressen abgesenkt und die Lasten von den darüber liegenden Zugstützen übernommen werden. Nachdem die Pressen komplett entlastet waren und das Tragwerk seine vorgesehene Funktion übernommen hatte, wurden die Stützen im Erdgeschoss ausgebaut.
Auch im Bau 6 gab es einige statische Herausforderungen. Hier befinden sich im Erdgeschoss bis zu acht Meter hohe Hallen für die Endmontage und Kalibrierung von Durchflussmessgeräten, im 2. Obergeschoss die sechs Meter hohen Werkstätten für Forschung und Entwicklung, Lehrlingswerkstätten und zwei Regelgeschosse, welche als Ausbaureserve dienen. Zu diesem Gebäude gehört auch ein dreigeschossiger Annexbau mit einer Montagehalle im Erdgeschoss und Werkstätten im Obergeschoss.
Da es im Bau 6 nur eine mittige Stützenreihe gibt und hohe Nutzlasten von bis zu 20 kN abgetragen sowie Spannweiten von 13 bis 15 Meter überwunden werden müssen, wählten wir als Deckentragsystem flache, breite Unterzüge. Zu den Nutzlasten gehören u. a. die Kranbahnen für Montage und Transport von grossen Bauteilen sowie ein Galeriegeschoss mit den Büroarbeitsplätzen der Produktionssteuerung. Zur Gewährleistung des stützenfreien Tragwerks wurde die Galerie als Stahlkonstruktion mit Zugstangen von der Decke abgehängt. Die Aussteifung der Gebäudeteile erfolgt über fünf Stahlbetonkerne sowie über geschossübergreifende Wandscheiben.
Die Gebäudehülle passt sich den umliegenden Bauten an. Horizontale Bandfenster mit Elementen aus natureloxierten Aluminiumpaneelen mit profilierten Abkantungen gliedern die Fassade und integrieren sich in das Gesamtbild des Campus. Die hinterlüftete Fassadenkonstruktion wird im Bereich der Treppenkerne durch eine Einbuchtung und durch eine Blindfassade segmentiert. Durch die vorfabrizierte Elementbauweise war die Fassade schnell dicht und wir konnten rasch mit dem Innenausbau beginnen. Dies verkürzte die Bauzeit.
Heizung, Lüftung, Speicher
Alle Decken in den Bürogeschossen verfügen über Kühlsegel, welche zu einer gleichmässigen und angenehmen Temperatur beitragen. Sowohl die Produktionshalle wie auch der Bürobau sind mit einer Quelllüftung ausgestattet. Diese ist energieeffizienter als eine klassische Lüftung. Aussergewöhnlich ist der Einbau eines sogenannten Schichtenspeichers. Dadurch wird die Abwärme aus dem gesamten Fabrikareal gespeichert und genutzt; z. B. können die zwei Pelletheizungen unterstützt oder sogar zeitweise ersetzt werden. Das Konzept wurde dabei massgeblich vom technischen Gebäudemanagement von Endress+Hauser Flow mitentwickelt und von den Gebäudetechnikplanern von Rapp betreut.
Die Messtechnik von Endress+Hauser stellt die Grundlage für die Steuerung des Speichers zur Verfügung.